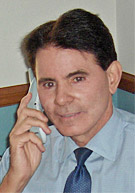 Dr. Art Cara is President/CEO/Proprietor of a nation-wide, corporate outplacement company called Outplacement Consulting Services (OCS). He founded, then served as Lead Consultant and Managing Director at the multi-state, Birmingham, Alabama office of Drake Beam Morin,1989-2005. While employed at this first U.S. national and first global corporate outplacement company, Dr. Cara coached corporate executives and their leadership teams; oversaw the career transition sales/operations of a multi-state region; and purchased/interpreted career/personality assessments. Dr. Cara is a  former Rotary International club president, and remains a much sought after speaker frequently addressing topics such as violence in the workplace, job-related stress, corporate outplacement, change management, and executive leadership assessment & coaching.
Prior to becoming a Corporate Change Management Consultant, Dr. Cara was Alabama State Director of Medical Social Services at First American Home Health Care. He served on several undergraduate/graduate university faculties, authored workplace articles, and launched a career advice/mental health column called Job Fare for the Birmingham Business Journal. Dr. Cara is a frequent guest commentator on Clear Channel (WERC Radio 960 AM) and Citadel Broadcasting (107.7 HOTS FM) addressing topics such as workplace violence, stress management, executive assessment, and career transition.
Dr. Cara holds three graduate degrees from three different ground universities. A licensed mental health professional, he was awarded a Ph.D. in Social and Behavioral Science from The Ohio State University, and earned masters degrees from the University of North Carolina at Chapel Hill, and the University of Alabama at Tuscaloosa. Dr. Cara's undergraduate degree was conferred cum laude by the University of Dayton.