A Corporate Outplacement
Consultant Gets Downsized!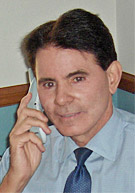 Variously described as outplaced, rifted, separated, let go, re-structured, streamlined, right-sized, notified, severed, let go and downsized, my position as a Corporate Outplacement Consultant was eliminated when our international career transition company re-aligned. Having assessed/counseled/coached hundreds of unemployed corporate executives for the past fifteen years, coordinated countless company downsizings, and managed a multi-state team of consultants who delivered career transition services throughout North America; I too was downsized, and entered the ranks of the corporate unemployed!
Initially, I took job loss in stride, and continued to present myself as the same unaffected Outplacement professional who once glibly spoke with newly outplaced clients about Elizabeth Kubler-Ross' five stages of the grief cycle. My flight of health lasted only about a day before I started to develop more neurotic tics than a hooch dancer in a hurricane. What people say is absolutely true; losing a job is never a big deal until it happens to you!
As in Charles Dickens' holiday classic A Christmas Carol, each spirit of the grief cycle paid me a visit. I experienced denial, anger, bargaining, depression, and only recently, came to acceptance.
Denial, the first stage of my grief cycle, was subconscious and automatic. Feelings of isolation, shock, and numbness were accompanied by the free-floating thought, "No, this can't be happening to me, I'm a Corporate Outplacement Consultant who counsels the unemployed. I'm not a client!"
When denial broke, I immediately was confronted by the spirit of Anger. To my surprise, I leaked anger toward former colleagues who survived the re-alignment. Adding insult to injury, I wrongfully accused one dear friend, and colleague of being insensitive to my job loss, only to discover shortly afterward, she risked losing her position by pleading before the company's leadership team the case for my retention.
Logically, I knew my position was eliminated along with scores of other employees' jobs. It was strictly a business decision, completely devoid of mean-spiritedness, or ill-will. My emotions, however, were not so easily convinced.
Subconsciously, I felt certain that a mistake had been made, a bargain would be struck, and I'd be rescued by an eleventh hour reprieve. In fiction, Ebeneezer Scrooge's bargaining redeemed him because Charles Dickens knew that his redemption would be uplifting to the reader. By contrast, and like most of the downsized corporate clients I've counseled, Bargaining turned my disappointment into reactive Depression.
Fortunately for me, this bout with reactive depression was brief. Supportive friends and family along with a devout faith, quickly restored my sense of control, ego-strength, and approval. I knew that my career was important, but periodically had to remind myself that it was equally important to lower my evocative potential, and promote at least the appearance of well-being for the sake of my family, friends, and pending job search.
Accepting job loss, the final phase of the grief cycle, takes time, but it's the emotional place where I, and other job candidates must be before embarking on a career transition campaign. We're all different, and variously should be sensitive to each individual's capacity for accepting job loss. Having said this, I'd like to share a few tips that I've learned as both a Corporate Outplacement Consultant, and newly minted job candidate.
Connector.

Connector.

Center Before You Search.

Allow yourself time to grieve. Every job candidate must first go through their own internal process before launching a job search campaign. Utilize social support to disinter the inner struggle, remain calm, and give yourself time to feel the emotions that occur when we grieve.

Connector.

Connector.

How We Think Is How We Feel.

Don't make yourself crazy by listening to all the doom and gloom witnessed on CNN. The "talking heads" on TV are paid to fill air-time with depressive unemployment surveys, cold statistics, and so-called "expert" advice. The sky's not falling, until you think it is. Turn off the TV, go to the library, and check-out that best-seller you've been wanting to read, but didn't have the time to do so because you were too busy being a good corporate soldier.

Connector.

Connector.

Exercise.

Ralph Waldo Emerson wisely observed, "the first wealth is health!" Exercise will help you sleep better, look better, and increase your energy level. A proactive job search requires a healthy mind and body. Walk, swim, jog, cycle, skate, practice yoga, and move your body to stimulate your mind. A job search is a competition; you're competing with others for jobs. Maintain a healthful lifestyle to get in shape for your upcoming search campaign.

Connector.

Connector.

Invest In A Corporate Career Consultant.

Before composing your resume, or developing a marketing plan, retain a Ph.D. level career expert. Every job search should begin with assessment, and your Career Consultant will use a battery of tests to determine what you can do, will do, and are a good fit for. Coaching provides the job candidate with an investment against underemployment, and also pays incalculable dividends down the road. The first wealth is health, but arguably, the second wealth is career! Stay on top of your career path with expert advice.

Connector.

Connector.

Develop Search Support Tools.

The resume is the premier marketing tool for every job candidate. However, other marketing support tools also are important to job seekers. These include business cards, cover letters, a DSL computer connection, a mobile phone, and spreadsheets for tracking industry research, networking contacts, interviews, and recruiters.

Connector.

Connector.

Consider Using Executive Recruiters/Search Consultants.

Go to the library, and examine The Directory of Executive Recruiters (A Kennedy Publication). Retaining a staffing consultant is just one of several search strategies that may, or may not be appropriate for your job search campaign. However, for those who elect to use an executive recruiter, The Directory of Executive Recruiters lists thousands of Retained and Contingency Recruiters in alphabetical order, according to industry and function. This reference is considered the "Bible" of staffing consultants. Ask your Corporate Career Consultant which recruiters will best serve you.

Connector.

Connector.

Network, Network, Network.

Between 60-70% of all jobs are filled by networking. Become a business card collector, and never meet a stranger. Statistically, a rich database of networking contacts gives you the best prospect of finding your ideal work preference.

Connector.

Connector.

Sign-Up for Unemployment.

State severance benefits are payments made to employees upon termination of employment caused by events beyond their control. State governments pay unemployment insurance to notified employees from a fund of unemployment taxes collected from employers. As a notified employee you are entitled to collect state unemployment compensation.

Connector.

Connector.

Practice Time Management.

Conduct your job search about 40 hours per week, Monday-Thursday. Reward yourself, and your family with a 3-day weekend to rest up for the coming week. Take some time out for fun. Remember, your family is going through this difficult time with you, and will need some R&R to manage their stress.

Connector.

Connector.

Stay Positive.

The job search process will take some time, and you'll encounter a bit of rough sledding. However, in my position as a Corporate Outplacement Consultant, I frequently recommended to clients the following mnemonic device: "Never think of yourself as unemployed; you're currently in career transition!" Remember, how we think, is how we feel! Best of luck in your search for that ideal job. Stay positive to remain positive in your career transition!
---
Published by Dr. Cara in the Oct. 21st 2005 Issue of The Birmingham Business Journal